New Longton Artists Society has, for the last 25 years, hosted the "Central Lancashire Fine Art Fair". This prestigious two-day event has proved very successful and has historically taken place at the New Longton Village Hall around October/November of each year.
The fair attracts up to 30+ accomplished artists who display and sell their work.
Below are short videos that give a taste of the Fine Art Fair weekend. The videos were put together using photographs and video clips taken over the weekend and have been produced by one of the attending artists Ceris Jones.
A selection of Ceris's Artwork can also be seen at http://www.cerisjones.co.uk/art/
Annual Summer Exhibitions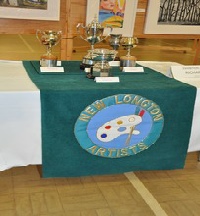 A selection of photographs of the trophy winners at the 2018 annual exhibition are available for viewing
Click on the red button below to view the full display